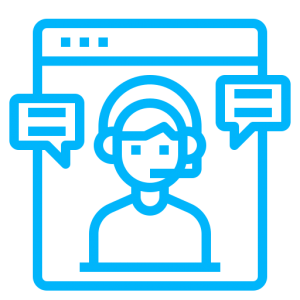 Professional call center
Fast and efficient customer service is impossible without IVR as it requires outstanding financial and human resources at the same time, which is demanding not only for small businesses but also for large companies. However, quick response is a corporate value that is becoming more and more important.
IVR is an interactive system, that allows the user to communicate with the customer service by using the buttons on the phone. The caller is usually greeted by a voice announcement menu then the given response is followed by another playback message, to which the user responds again, and so on until the user reaches the desired information or service.
The solution is an Interactive Voice Response system
Leveraging IVR makes mass incoming calls manageable, customer relations transparent and smooth, possible to record, process and measure. All this is available without any significant investment, with a monthly fee, tailored to the unique needs.
The system adapts flexibly to the growth of the company, as it can be easily expanded to hundreds of users.
The call center can efficiently handle a large number of calls, thus coordinating the company's information network, contact with customers. It makes this task manageable and transparent. Contact centers operate the same way, but here, additionally to calls, interactive communication is also possible via e-mail, SMS, or online communication channels.
Benefits include immediate assistance, smooth troubleshooting, and effective customer management. All this strengthens the image of the company, helps customer acquisition, partner retention, and the development of long-term collaborations. The automation that comes with the interactive system reduces the possibility of errors, undertaking some of the efforts of employees.
The most common fields of application
It is common to request account information and balances. It is also an ideal solution for companies where different departments have different contacts, or employees working in a home office need to be connected.
Do you have another question?
If you need more information or would like to request an offer or a free consultation, please contact us!