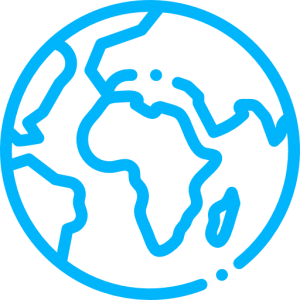 In case of international involvement
Dial-in numbers simplify processes if a company wants to enter new markets, create new opportunities. As part of our service, telephone numbers are available in more than 130 countries around the world that allow companies to operate a local office cost-effectively, with own and local number. Customers call a local area number, but the phone rings at the company's office – even in another part of the world. With international telephone numbers services can be accessed across borders. This is an opportunity, which is essential to maintain the credibility of a company and to build customer confidence when entering the international market.
The fact that the company can receive inquiries and orders from all countries via a local telephone number has proven to increase their volume, as customers are more tend to contact the company. This provides a competitive advantage in international expansion.
We guarantee top voice quality
With our service traditional and special international dial-in numbers can be implemented almost anywhere in the world. In the countries of our portfolio, we can provide numbers corresponding to the given area code. It can be toll-free numbers, landline or virtual numbers, premium-rate numbers, but also including international numbers, DID, and DDI services. The two acronyms are short for Direct Inward Dial and Direct Dial-In. Both refer to the same telephone solution that allows a company to assign different numbers to each of its employees without using a separate telephone line. The acronym DID is more common in the United States and DDI in Europe. Important to note that we provide excellent voice quality as part of our service, all without capacity constraints.
Who benefits from the service?
Leveraging dial-in numbers, local presence is essential if the company maintains international relations, delivers abroad, or sells in another country where it operates customer service. In this case, customers do not have to call at expensive foreign tariffs, they can use the usual channels. With this solution, companies can prevent a potential buyer from backing off before making a purchase just because of the uncertainty caused by the foreign contact. Thanks to the professional infrastructure, it is also possible to set the given number to ring on a landline device, mobile phone, and SIP PBX.
The world is globalizing, but for foreign customers, it is important to be able to contact the company on a number with a format they are used to, at a local rate – this makes it easier to contact and increases customer loyalty. The service is an investment in the successful operation of the business. International dial-in numbers can significantly increase the number of customers while saving the maintenance of a foreign customer service office, which leads to significant savings. It is also cost-effective to be used for communication between employees in different countries: they can contact each other for a local tariff or even for free, as communication between colleagues can be free of charge as part of a virtual IP PBX.
Do you have another question?
If you need more information or would like to request an offer or a free consultation, please contact us!